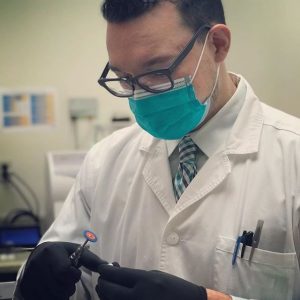 Michael Weiner, DDS, brings more than 15 years of experience in general, preventive and cosmetic dentistry to Howe Dental Associates in Passaic, New Jersey.
Dr. Weiner was born and raised in New Jersey and began his professional education at Johns Hopkins University in Baltimore, where he earned his Bachelor of Science. Dr. Weiner decided to pursue a career in dentistry after being introduced to the mechanical properties of mantled howler monkey teeth during his undergraduate studies in biomedical and biomaterial engineering.
After graduation, Dr. Weiner returned to New Jersey, where he enrolled in the Rutgers University/ UMDNJ graduate school of biomedical science. As a graduate student, Dr. Weiner researched several bone and blood vessel regeneration and biopolymer synthesis projects in the lab of Dr. Joachim Kohn. He earned his Master of Science in bioengineering, graduating in 2004.
Dr. Weiner followed his dental destiny when he moved to New York City to do more bone and tooth research with Dr. Jack Ricci, an esteemed doctor in the department of biomedical engineering at the New York University College of Dentistry, who spurred Dr. Weiner on to do several projects in bone, tooth and nerve regeneration and repair . The following year Dr. Weiner enrolled at the NYU College of Dentistry.
Dr. Weiner loved his time with the biomaterials department and graduated with his Doctor of Dental Surgery in 2010, earning five awards for his postgraduate research. During his time at NYU, Dr. Weiner presented his research at multiple national and international conferences (AADR, IADR, Dentsply and SCADA).
Before entering private practice, Dr. Weiner completed a residency at Kingsbrook Jewish Medical Center in Brooklyn, New York. As a resident, Dr. Weiner honed his oral surgery skills, learning about bone grafting, atraumatic third molar extractions, etc.
As the owner of Howe Dental Associates, Dr. Weiner treats patients of all ages, from children to adults. He loves spending one-on-one time with his patients and answering their questions and concerns.
When he isn't working or augmenting his skills, you can find Dr. Weiner hiking, backpacking or spending time outdoors. Dr. Weiner is an Eagle Scout and loves taking his Jeep off-roading.
Dr. Weiner is a tripartite member of the American Dental Association® (ADA) and a member of the Bergen County Dental Study Club. He welcomes anyone seeking high-quality oral health care to Howe Dental Associates.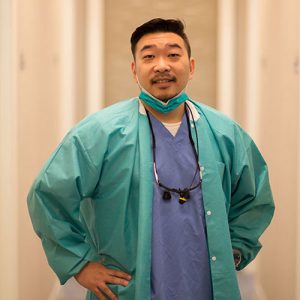 Dr. John Choi grew up in Staten Island, NY and attended the Science Institute program at Tottenville High School. He then attended School of Engineering at the University of Rochester and studied biomedical engineering and biomechanics. He then studied dentistry at the Columbia University College of Dental Medicine, and furthered his training in dental specialty at the postgraduate program in Periodontology at Columbia University.
After graduating, Dr. Choi began working with other doctors in private practices and in multi-specialty settings. He has served patients from NY and NJ area. During his off time, he likes to work out at the gym, go for a jog, play tennis with his friends, practice his golf swings and serve his local communities at a local church.
The specialty of Periodontology or Periodontics is the specialty of dentistry that studies and treats the supporting and surrounding structures of teeth and its substitutes. It is one of the only two specialties in dentistry that has been recognized by the ADA® for surgical training to manipulate the gum tissue and bone tissue in dental care in the US. Thus, periodontists have become the leaders of dental implantology in procedures like placement, bone grafting, soft tissue grafting and sinus lifts.
After graduating from Columbia University, Dr. Choi began working with other doctors in private practices and in multi-specialty practices. He has served patients from Manhattan, Fort Lee, NJ Staten Island NY, Cherry Hill, NJ, Passaic, NJ, and Flemington, NJ. For the past seven years, Dr. Choi was the chief dental surgeon at the Universal Dental Center, in Fort Lee, NJ, where he honed his surgical skills and developed his procedures as a periodontal surgeon. You can learn more about Dr. Choi and his work at his website.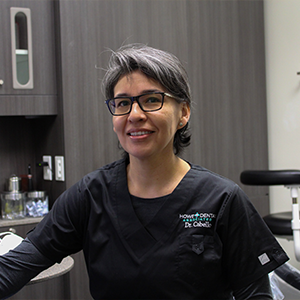 Hardworking and committed to providing patients with a comfortable and successful experience, Dr. Cabello brings a wealth of experience to the team at Howe Dental Associates. She has practiced dentistry in the U.S. and abroad for over 10 years, having first graduated from the dental college at Federico Villarreal National University in her home country of Peru before coming to the U.S. and earning a Doctor of Dental Surgery in the Advanced Standing program at New York University College of Dentistry.
Dr. Cabello is adept in pain management and providing effective guidance on preventive oral hygiene. She has experience in oral diagnosis, restorative dental treatment, prosthodontics, digital workflow and cosmetic procedures. She is comfortable performing root canals, minor surgery and prosthetic procedures.
To stay current with the latest advancements in dentistry, Dr. Cabello maintains professional affiliations with the American Dental Association, New York State Dental Association and American Academy of General Dentistry.
Meet Our Team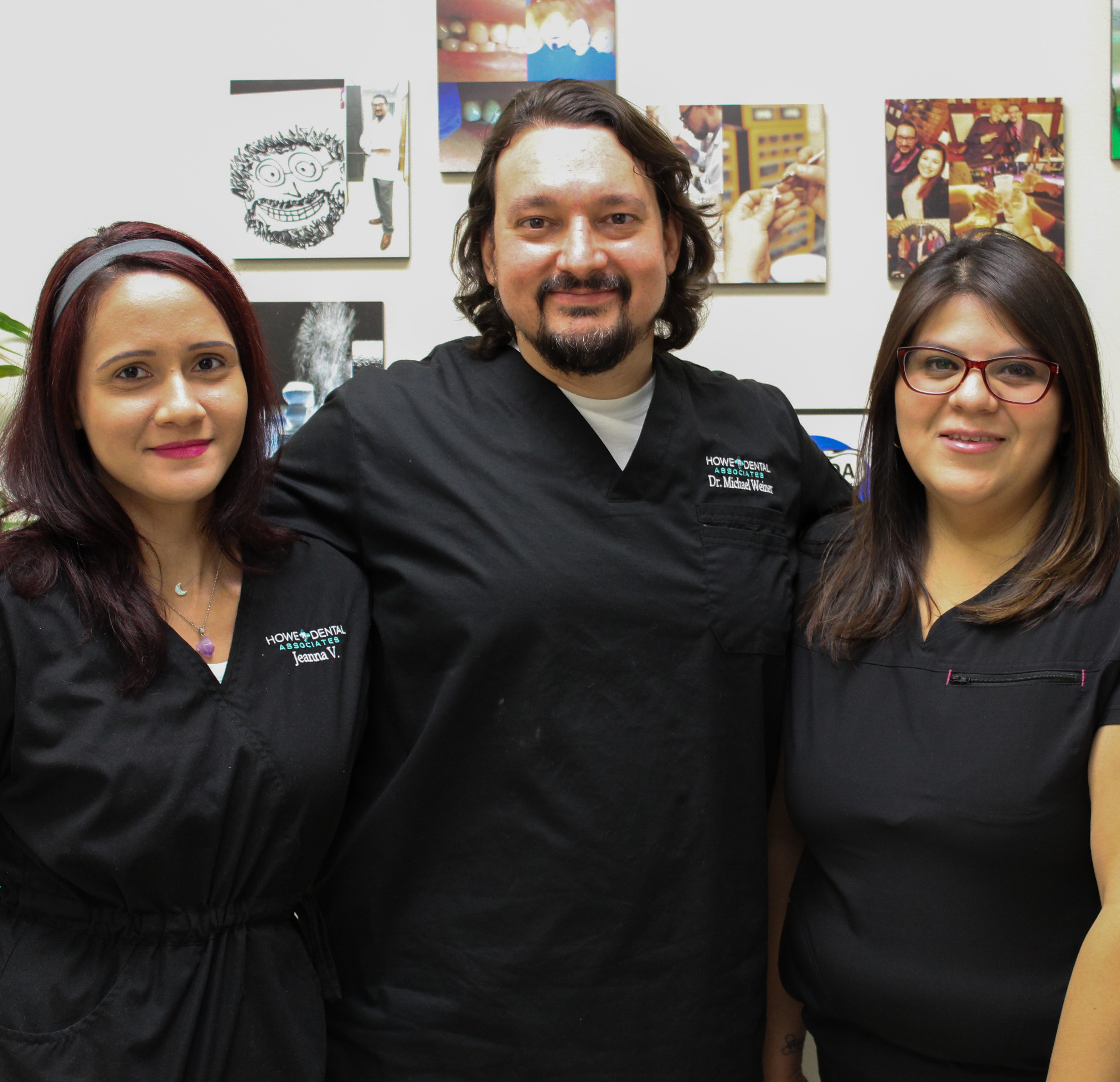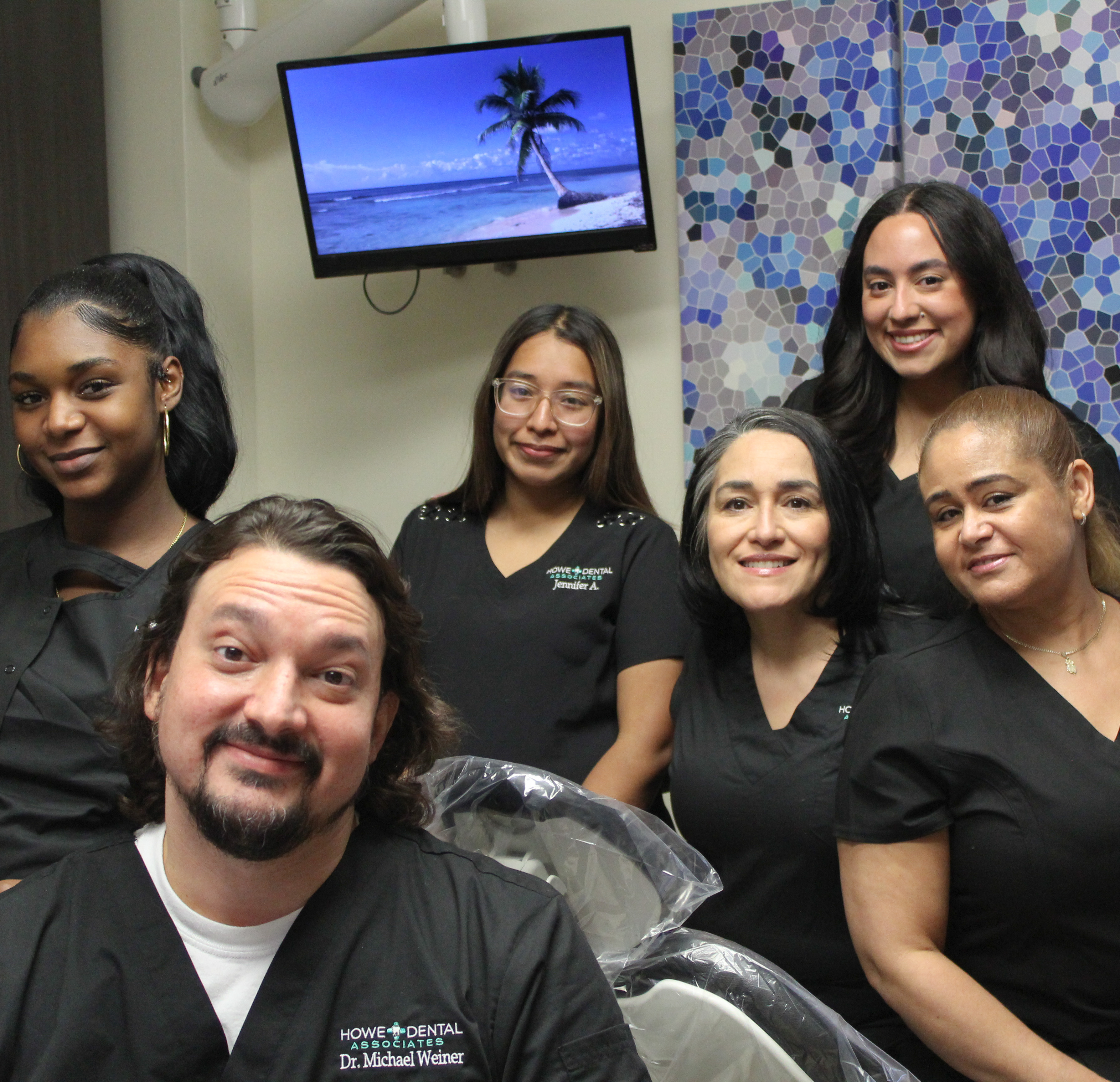 Dr. Weiner with Jeanna and
Mireya (Front Desk Team)
At Howe Dental Associates, our team is here to care for you and your smile! They will treat you like family, care for your needs and do everything possible to ensure the comfort and convenience of your visit. Our team members speak English and Spanish, and Dr. Weiner also speaks Spanish and Latin! You can meet our team members below, and if you would like to schedule your dental appointment with our dentists in Passaic, New Jersey, and meet the team in person, call 973-365-1931 today.
Check back soon to meet our team.